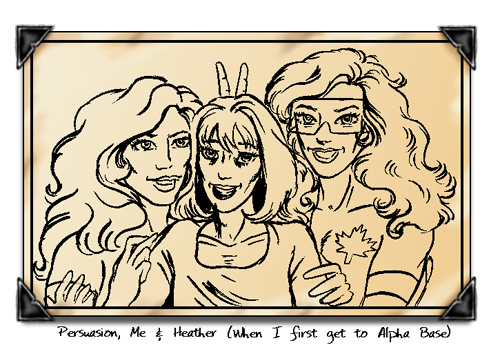 Persuasion & Heather & I
I was in pretty bad shape when I got to the Alpha Base just after I got my powers. I'd lost over 120 lbs in a few minutes, metabolised all my extra weight when I went from normal human to fully blown mutant. Look pretty awful don't I?

I love my friends in Alpha Flight. Heather especially kind of became my big sister. Persuasion and I chased after all the guys and tried to snag Weapon Omega's mask. He was too damned fast though. Good thing he thought it was funny, he's pretty scarey in combat.





Puck, Heather & I at my 22nd Birthday
Got my first uniform at my birthday, took me a LOT of persuading to get me to wear something so tight fitting! Weapon Omega and Puck tag-team-teased me for weeks afterwards, and Heather just laughed alot when I took to wearing my labcoat overtop of it.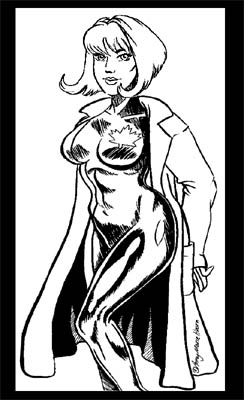 My Official File Photo (without mask)
Here's my official file photo for the Alpha base files. I finally got to a healthier state just before the whole governmental thing blew up. I'm almost as muscular as my Aunt Vic!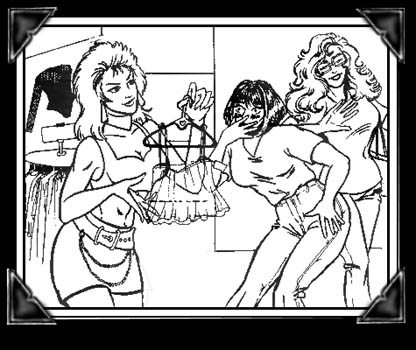 Shopping with Aurora and Heather
I have a word of advise for anyone who shops with Aurora's Aurora personality... DON'T DO IT! Especially when you embarrass as easily as I do! The more I freaked the more she loved it! It was fun though, and I love her dearly. I miss her so much!




Aurora, Persuasion, Heather, Puck & Weapon Omega are all copyright MARVEL! These pages are FAN BASED ONLY! No money is being made off of the X-men, Alpha Flight or Marvel. I am not in ANY way affiliated with Marvel or any other comic book company. These pages are for FUN only, not for profit. X-Men or Alpha Flight and any of the X-men or Alpha Flight-like things are copyright MARVEL!
Remedy is a 100% original character and is copyright Amy Marie Hearn. DO NOT USE MY DRAWINGS WITHOUT PERMISSION!